Welcome to Fortitude Ranch
Fortitude Ranch is a survival community equipped to survive any type of disaster and long-term loss of law and order, managed by full time staff.  Fortitude Ranch is affordable (about $1,000/person annually) because of large numbers of members and economies of scale.  Fortitude Ranch is especially attractive to join because it doubles as a recreation and vacation facility as well as a survival retreat.  Members can vacation, hunt, fish and recreate at our forest and mountain locations in good times, and shelter at Fortitude Ranch to survive a collapse.
Fortitude Ranch is Expanding!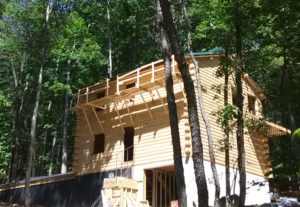 A big new 7,000 square foot shelter and lodge is almost done at Fortitude Ranch West Virginia. Log buildings on both ends are connected by buried, underground basement rooms.  The 120 foot long basement has over a dozen rooms to protect members from radioactive fallout.  There are also member rooms in the log homes, plus kitchen, bathrooms, and a beautiful upstairs living room with fantastic elevated view of the neighboring George Washington National Forest.  A large wrap around elevated deck is a great for both enjoyment in good times—and a guard platform for bad times.  The photo shows just the right side of the 120 foot long building.  The tar covered reinforced steel ceiling over the basement rooms (to left) is visible.  This will be covered with three feet of earth, and then a deck/roof that will deflect water (and fallout) away from the basement rooms.
We recently completed a cryptocurrency token sale, an advance sale of membership, to fund our expansion from two existing facilities to a dozen sites across the United States, and an international location. Our cryptocurrency token, called a Fortitude, gives you a discount price on Fortitude Ranch membership, protection from membership price increases, and priority in joining FR when waitlists occur.
Watch the video for more information on the token sale.
About the Ranch

→  See current and future ranch locations
→  See our resort features and conference capabilities
Download a briefing on Fortitude Ranch